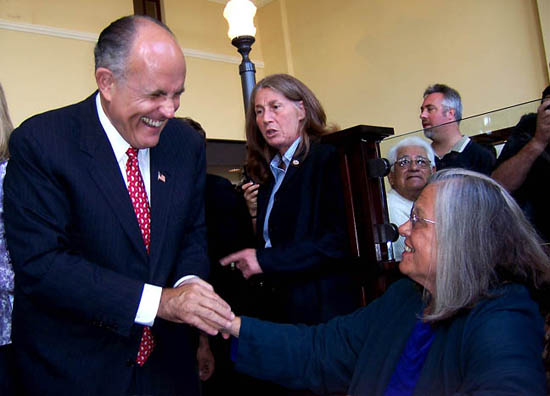 Photo- Robert Altman - © 2007
A Roll and Butter with Rudy
May 30, 2007
So there we were- Dr. Judy Watson Davis, PR legend Lee Houskeeper and moi calmly poking our eggs. Out of nowhere we were encroached by this hand grabbing ebullient familiar looking character. Of course it was good ole' Rudy Guiliani shaking the California money tree for his stab at the White House. He inquired if he should gamble on Broadway Grill's 'Huevos Ranchero.' When Davis gave him the nod I took this shot.

I became a Rudy fan after he singly cleaned up the face of NYC; I fell in love with my old home town all over again. Now I won't miss a year there.

He was such a charmer, we instinctively reached for our checkbooks but thankfully realized we were Democrats.