Photo- Robert Altman - © 2004




Gavin Christopher Newsom

The forty-second San Francisco Mayoral Inaugural



January 8, 2004
City Hall
San Francisco




I rarely ingratiate myself with politicians. Gavin, our newly elected Lord Mayor, is an exception. I foresee great potential in this man.

I've been photographing him now for several years. I have a notion that this work will be important historically.

He's my guy. Fingers crossed for Gavin and for us all. We look ahead.

In Gavin we trust, eh?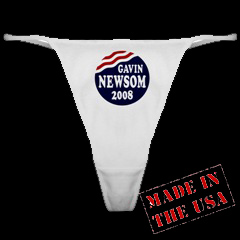 * Update August 2005 - Well, it's only a year and a half later and there appears to be a groundswell "Newsom for President" campaign. Yes, that's a ' Gavin Newsom 2008 Classic Thong Undies' on the block.