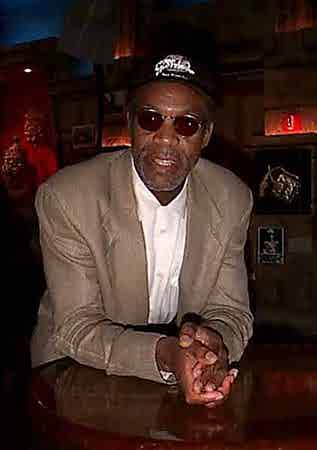 Photo ©1997 Robert Altman


Actor Danny Glover



October 24,1997
San Francisco, CA



Another non-stop week.

Bumped into localite thespian Danny Glover at Planet a Hollywood. Dan is about to open in his new film SwitchBack with Dennis Quaid.

We shared one memorable day last Saturday with the lovely Mimi Fariña and her great organization- Bread & Roses at Alcatraz. The legendry Jon Hendricks performed with Les McCann "The Evolution of the Blues." Absolutely spectacular!

I got to scat a few bars of "Cloudburst" with Hendricks, who mentioned that the only other person besides himself who can pull it off word for word, note for note, beat for beat, is performer Joel Grey. Joel did it for him over the phone once.

Well I gave it my best shot.

Oh yeah, I got to meet the ultra-legendry ex-Cream drummer Ginger Baker! He performed unplugged at the Fillmore at a small party celebrating the release of Art at the Fillmore book.


---


Website Contents
WebSite | Home Page | EMail | Contents | Reviews | My Week | Tour | Bio | Photos | Animation | Projects | Links | Follow | New World | Films | Cool Words | Disclaimer | Guest Book | BackTalk!


---

Photography "Rooms"
Rock a | Rock aa | Rock aaa | Rock bb | Folk Music cc | My Generation dd | 60's | 60's II | Cockettes | 60's Players | Art | Celebs | Woman | Friends | SF I | SF II | SF III | My Week | Blowups |